It's difficult enough to battle drug and substance addiction. So, when you add a mental health illness into the equation, it becomes significantly harder for the patient to cope—especially without any help. This is where Dual Diagnosis Treatment Centers play a crucial role.
There is causality or a type of relationship between addiction and mental health. More often than not, substance abuse may arise from or be exacerbated by mental health issues. This co-existence of addiction and psychological issues is called a co-occurring disorder (COD) or dual diagnosis.
Dual Diagnosis Treatment Centers
Cause for concern is always warranted in dual diagnosis. This is because substance abuse can deeply aggravate the symptoms of mental illness, or lead to the development of new ones altogether. As such, professional treatment is necessary—the kind that can only be found in the best treatment centers in the US.
There are a large number of psychological issues affecting people in the US and a large number of abused substances. Taking combinations of both into consideration, very specialized care needs to be accorded to every single patient because none is like the other.
Therefore, it's important to seek help from the best dual diagnosis treatment centers in the US. Whether you are a patient, loved one, or even a sponsor, it is paramount to start your journey to wellness with an informed step. Taking all the pertinent information into account, here are the top treatment centers in the US.
---
Top / Best Dual Diagnosis Treatment Centers in the US
Oro House Recovery Centers
Located in California, Oro House boasts one of the highest quality dual diagnosis rehab programs there is. This is courtesy of a blend of the most successful aspects of both substance abuse treatment and mental health care. This and their qualified team of Doctorate and Masters level clinicians make Oro House one of the best dual diagnosis treatment centers in the US.
The integrated care offered at Oro House was designed by pioneers in the field of Integrative Behavioral Health and Dual Diagnostic rehab treatment. Oro also provides Incidental Medical Services (IMS) for assured safety during the treatment. This is geared towards the patient's long-term recovery.
Oro enforces its policy of Connect, Not Control, with its supportive approach to therapy. It helps build the client's confidence and esteem. Theirs is an inclusive strategy, bringing in family, spouses, and partners into the treatment approach.
To cap it all off, Oro House is located in Malibu—one of the most beautiful places in the world. The main center is on an Equestrian Estate with breath-taking views Zuma beach. It has all the amenities you would ever need and is privacy-focused. A luxurious slice of heaven. No less than what is expected at one of the best dual diagnosis treatment centers.
---
Hazelden Betty Ford Foundation
For more than 70 years, Hazelden Betty Ford has been providing life-saving, specialized, and compassionate care to patients in need of it. They have 15 drug and alcohol treatment centers in the US, with a presence in California, New York, Florida, Minnesota, and Illinois, to name a few. The name is an ode to Betty Ford, known as the First Lady of Recovery, who shone a light on the drug addiction problem and the promise of not only treating, but recovering from it.
Theirs is a holistic approach emulated worldwide, with Twelve Step principles and practices. They comprise lay counseling, respect, and compassion for the care recipient.
The expert clinicians at Hazelden Betty Ford are the assurance of effective treatment and recovery, with thorough education and research in the field. Personalized care is used to cater to each patient, and to address co-occurring disorders. In true top dual diagnosis treatment center fashion, Hazelden offers innovative recovery support services. These include virtual coaching, mobile applications, and self-help books.
---
Caron Treatment Centers
Caron is one of the best dual diagnosis treatment centers in the US. Under their belt is 60 years of pushing for innovative addiction treatment and striving for lifetimes of effective and uncompromising care for their patients. Caron makes treatment accessible with several insurance partnerships which help remove finances as the main factor when choosing the best treatment centers in the US. Caron is recognized internationally as dedicated to behavioral healthcare treatment, prevention, and medical-related education.
The staff comprises of full-time and always on-site physicians with superb credentials. They are world-class behavioral health experts and addiction treatment professionals. They make use of family support and treatment, involving loved ones in educative workshops and family therapy to not only heal the patient but the whole family.
Caron has several locations. The Pennsylvania Addiction Treatment center has gender-separate facilities. It is residential, with primary and extended care rehabilitation for all ages from teenagers to the elderly battling addiction. In Florida is the Caron Renaissance, a serene environment that builds foundations for stable and ultimately productive lives. Caron Ocean Drive, also in Florida, discreet and luxurious, primarily catering to the affluent and influential.
---
Harmony Foundation
Harmony Foundation has an ongoing care-providing tradition all through the 50 years in which it has existed. This puts it up there with the best treatment centers in the US. Harmony is one of the longest-running and most successful. It is a 43-acre establishment in the Rocky Mountains near Estes Park in Colorado. It is a wonderful experience to take the first steps to recovery in the Rockies.
The staff at Harmony have a combined 416 years of recovery care. They are compassionate experts, with equal focus on both psychological issues and addiction problems. To attest to their success, 71% of their patients are employed within a year of treatment.
Harmony Foundation has several programs aimed at providing holistic care for the recovery of their patients. The evaluation and detox program are short-term, where patients' detox is medically monitored to break dependence on substances in the safest way possible. There is residential treatment, with gender-separate programs aimed at men, women, and young adults.
The intensive outpatient program uses a retreat-style approach that disconnects patients from technology and lets them focus on healing. It is best suited for clients with busy schedules. The family support program aims to help move the whole family forward. Peer-run support groups, including virtual ones, connect those who are starting on the recovery journey to alumni of the Harmony Foundation.
One of the most important programs is the Recommitment to Recovery Program, which is a short-term residential treatment program for patients who have relapsed within a year of discharge.
---
Sundown M Ranch
Since 1968, Sundown M Ranch has been guiding those on the road to recovery to themselves and re-establishing their lives and their relationships with loved ones. The number? Over 200,000. Their motto, "The patient is the reason we are here" has been the driving force behind this feat. It is licensed by the Washington State Department of Health, accredited by CARF, Commission on Accreditation of Rehabilitation Facilities, and certified by the Division of Behavioral Health and Recovery. It is not only one of the best treatment centers in the US, but also one of the most affordable.
Sundown M Ranch is a 30-acre establishment at the entrance of the Yakima River Canyon. It is a safe, serene environment and provides a perfect background for your healing journey. It has nationally recognized treatment programs and the professionals to administer it. Their programs cover adult treatment, youth addiction treatment, a family program, and outpatient treatment. Most of the insurance providers are accepted. Upon request, transport to and from the Yakima Greyhound Bus Stop and Yakima Airport is provided.
---
Ashley Addiction Treatment
Ashley Treatment centers employ a multi-faceted, holistic approach to treatment. This involves good physical health, clinical support, education on recovery-based life skills, and introduction to a spiritual path that guides on the personal journey to recovery.
The care is personalized, with medical, clinical, and psychological aspects all covered, taking care of any co-occurring issues. The relapse program helps identify the undiagnosed issues and triggers, as well as any co-occurring problems. The emerging adult program helps the patients face their addictions with confidence, with a different approach to long-term recovery.
Training on essential life skills and recreational therapy are also included. Pain recovery treatment is holistic and aims at regaining good health while taking you away from the medication and the pain that is affecting you. Ashley Centers recognize that addiction affects entire families and has services to help heal the family together. With an intensive outpatient program, you get an affordable, customized program with access to acupuncture, meditation, and individual therapy.
Ashley Treatment was established in 1983, and their 146-acre campus can only be described as a place full of soul. It is located on the Chesapeake Bay, in one of the most peaceful environments in the world. It truly is one of the best dual diagnosis centers in the US.
---
The Meadows
The Meadows is a trusted name in trauma and addiction treatment. It has, for over 40 years, been on the front-line helping trauma patients heal. Patients learn effective and necessary coping mechanisms even as hidden effects of trauma are unearthed. There is a world-class innovative Brain Center, with neuro-behavioral equipment all geared towards achieving the same goal. To stay up to standard, there is a team of Senior Fellows that challenges The Meadows and its programs. Each member of that team is a worldwide practitioner and a researcher in their area of expertise. There is a survivor's workshop, Survivor I, that is part of the inpatient treatment program. It offers a safe and supportive environment while shedding light on the origins of addictions and psychological illnesses.
It is located in Wickenburg, Arizona. There are several facilities like the Claudia Black Young Adult Center for those between 18 and 26, Meadows Outpatient Centers that are recommended as a buffer for patients between one level of treatment and returning to their homes and their everyday lives. Serenity View Recovery Center is another of their facilities that is a co-occurring residential addiction treatment center in Dallas, Texas. For you or a loved one, The Meadows is one of the best dual diagnosis treatment centers.
---
Pavillon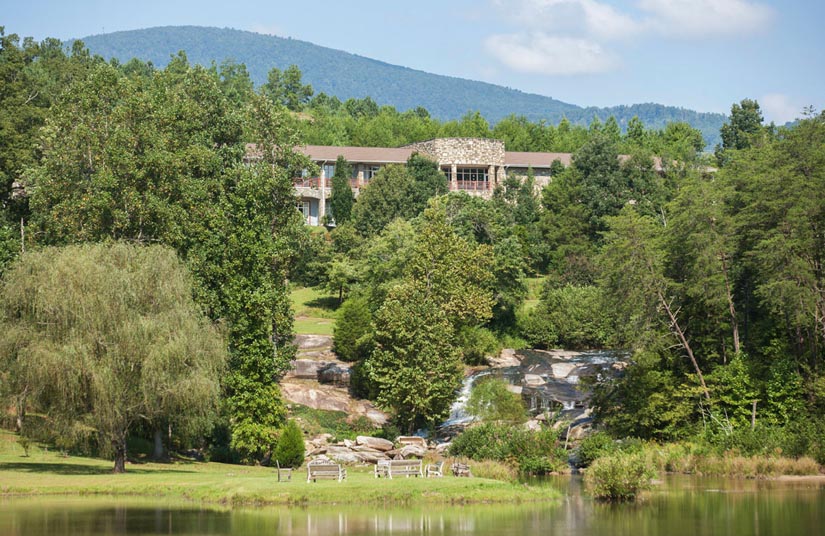 Proven. Personalized. Powerful. Pavillon remains more than aware of the individual nature of addiction and mental health issues and offers you a unique and personal path to recovery. It is a private, non-profit addiction treatment center that has a CARF-accredited residential treatment lasting approximately 6 weeks. Theirs is a state-of-the-art center with extensive and well-earned experience in treating co-occurring disorders.
Their programs are not only personalized in terms of individual needs but also gender and age, with an average counselor to patient ratio of 1 to 6. There is a vibrant alumni community, and a wealth of shared experiences to help you even as you choose to begin your journey. The treatment is multi-faceted, the hallmark of a top dual diagnosis treatment center. The holistic mind-body-spirit approach goes a long way in alleviating all the triggers. It also helps with the hindrances you may face on your journey to wellness.
Pavillon has a presence in the Carolinas; Mill Spring and Wilmington in North Carolina and Greenville, South Carolina. These are Pavillon, Pavillon by the Sea (Outpatient), and Greenville (Outpatient) centers.
---
Rosecrance
100 years in and Rosecrance is still providing care to patients and families affected by addiction and mental health disorders. Rosecrance center is a leader with result-focused programs. The foundation of the treatment is 12-Step programming, which is carried over into recovery. The team comprises of passionate, compassionate, licensed, and highly skilled professionals that work with you to identify and treat any co-occurring disorders.
At Rosecrance, special attention is paid to adolescents in that complex period of life. The rapid changes and development may exacerbate mental health issues if overlooked. The adolescent residential campus has programs specialized for teenagers—courtesy of highly trained professionals. Teens struggling with abuse, impulse control, bipolar disorder, and depressions, to name a few, will receive the best of care at one of the best treatment centers in the US.
Rosecrance has addiction treatment and recovery centers across Illinois; in Rockford, Chicago, McHenry County, and Central Illinois. There are also centers in Wisconsin and Iowa.
---
Cumberland Heights
Cumberland Heights is a nationally recognized, non-profit, alcohol, and drug treatment center. It is located in Nashville, Tennessee, on the banks of the Cumberland River. It sits on 177 acres with great facilities to compliment the 50 years of providing care to those who are on a recovery journey.
High-quality care programs cover adults, teenagers, and entire families. To quote the vision the founders had for the treatment center, "We want to have a location and a program which will enable a man to go back to the primary meanings of life so he can start over again." Cumberland Heights, in pursuit of this, make use of the 12-Steps principle with therapeutic tools aimed at restoring productivity. Apart from the main campus, there are 2 12-step immersion campuses, 12 outpatient recovery centers, and 4 sober living homes. Ages 14 and up are viable for the gender-responsive programs. It is possible to take a virtual tour of the campus.
When in recovery, Cumberland Heights acknowledges the need for positive and ongoing support to prevent a relapse. This support is in the form of continued participation in the 12-step program, a good sponsor, a transfer to their sober homes instead of re-incorporating directly into society and alumni relations. There are Sunday Services which can be listened to if you cannot attend personally. All this, plus the follow-up therapy and outpatient treatment care make Cumberland Height a top treatment center in the US.